Whether you're the best man, father of the bride, maid of honor or mother of the groom, when you're given the honor of making a speech. There is no need to stress! I will help you comfortably express what is in your heart and on your mind.
Wedding Speech Sample
Emilia and Brian have been brought together, and together they create a unique and special blend of some of the most rare and finest ingredients in the world. And it is through their union, that each member of our families and every one of our friends is today given the opportunity to grow still larger, both in love and in joy.
I am honored to have been asked to stand up for Emilia's father, my brother, Esteban, who passed away suddenly and much too soon. I take comfort in knowing that his spirit is here among us today, a very proud and joyful father, bringing great hope and many very special blessings from all of our loved ones who have gone before.
As the uncle of the bride, the stunningly beautiful bride, I should probably have some very wise advice to offer you both. Well actually Brian, the very best advice I can give you is to always be supportive and a good listener, to always be kind and sympathetic. But remember, the real secret to a happy marriage is give and take, give and take. Emilia will give the orders and you will take them.
---
It is not unusual to have difficulty expressing the depth of the feelings you experience, as you witness your child fast approaching young adulthood. Allow me to help turn your pride, joy, hopes, prayers and cherished memories into a heartfelt, and sincerely personal bima speech to your Bar or Bat Mitzvah.
Bar Mitzvah Speech Sample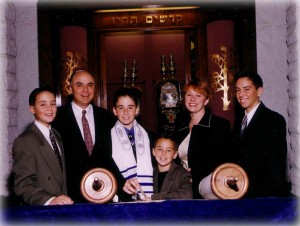 Every child is a treasure and amazes us in their own way, and from the moment you came into this world, with your blonde curls and your blue eyes, it seemed like you already had an understanding of everything.
Right away, you were a real presence, and not just because you were absolutely THE BIGGEST BABY WE HAD EVER SEEN!
Even though you are the son and I am the father, I always look to you with great admiration, Jacob,….not only because you can eat more than 4 grown men, or because you totally rock when you play Smoke on the Water on your electric guitar, or because you, along with your brother David, are on your way to committing every Simpson's episode ever made to memory. No, I admire you because you are such an exceptional young man.
You have really taken your Torah portion and made it your own, as you do with everything you set your mind to. Your Torah portion speaks of Joshua's direct connection to G-d. Well, it is my belief that G-d connects directly with all of us if we remain open enough to listen. And like Joshua, you have a way of listening to your God voice that I hope will continue to guide you to do good deeds and to be an important leader of your people and of your community. By the time you were 4, you were already leading, with caution and with your head about you, which I also hope will continue.
---
Parodies of popular songs written about "that special someone" in their favorite musical style and featuring their interests, qualities, personal accomplishments, quirks and shticks! You provide the details. I'll create the lyrics for your friends and family to sing together (that's the most fun!)
Birthday Tribute Song to Grandma
Can be sung sung to the tune of "More"
Bea, you've had more careers than we can count
Add up your roles in life, a huge amount
Mommy, nana, with an ear to lend
Daughter, sister, wife and friend
All our lives are blessed with good memories, richness,
There's so much richness.